Newsletter May 2018
For many of you, the tail end of lambing and calving is in sight, which means summer is on its way.... Now that the lambs are out in the parks, there are more problems yet to be encountered and to keep an eye out for....
Firstly nematodirus – an intestinal worm affecting young lambs from 6 to 12 weeks old. Changes in temperature at this time of year can cause a mass hatch, and this can lead to significant production losses and deaths.Due to the below average temperatures from January to March, and rise in temperatures (at long last!) during early April, there is a high risk of This is commonly described as a 'lamb to lamb' parasite – effecting lambs on a yearly basis, and not the ewes as they have immunity to the worm. It is recommended if possible not to graze lambs on the same parks as grazed the previous year as eggs can still be present on the pasture. Keep an eye on them for scouring, lambs can become severely dehydrated quickly and will require attention. Treatment for nematodirus infection is with Benzimidazoles – white drenches.

Coccidiosis also affects lambs and calves from 3 weeks to 3 months of age – most commonly later born twin lambs due to the build up of oocysts on the pasture. Youngsters pick up the parasites from the ewes, which shed more oocysts at this time of year around lambing. The coccidia enter the cells in the gut, multiply and then erupt out causing damage to the lining of the gut leading to scour. Not all species of coccidia cause disease, however the only way to ascertain if the ones present are pathogenic is by speciation – this is done at the lab. Immunity is built up over time after exposure. Clinical signs of lambs been affected by cocci are; rapid weight loss, scour – which is mucusy and flecks of blood present. In addition to medication, control can be through cleaning water troughs and keeping areas around feeding troughs as dry as possible. Medications can be given – both as preventatives if you have had issues in the past or to treat clinical disease.
Co-infections with coccidiosis and nematodirus is common and this can worsen the clinical signs seen and increase mortality. Please feel free to bring in faecal samples for us to check for worms and cocci in house and then can advise you on products to use.
How many barren ewes is too much? – A common question we are asked. Anymore than 2% of the flock which are barren should be investigated. MSD is offering a free lab test to check for toxoplasmosis and chlamydophila (EAE) - the most common causes of abortion, in 6-8 barren/aborted ewes. To qualify for this test you must not already be vaccinating with toxovax/enzovax at present. On the topic of vaccinating for toxoplasma, if you usually vaccinate then there is a special offer (5% discount) for vaccines ordered and used between the 1st of June and the 31st August. Breeding females should be vaccinated anytime between 4 months and 3 weeks pre tupping, giving you plenty of time to plan ahead!
Coughing cows is not just a problem at housing time, but also when out at pasture. Lungworm (husk) has been seen increasingly over the last few years in Scotland. Cattle develop a level of immunity to the parasite over a period of time. This years calves are most susceptible to the parasite with clinical signs most commonly seen in late summer/autumn, however older cattle which have not been challenged in the past – ie. New cattle bought in are also at risk. Cattle develop either a bronchitis – where there are lots of adult worms present in the lungs, or pneumonia. Previous infections with lungworm can cause damage to the lungs making them more susceptible to other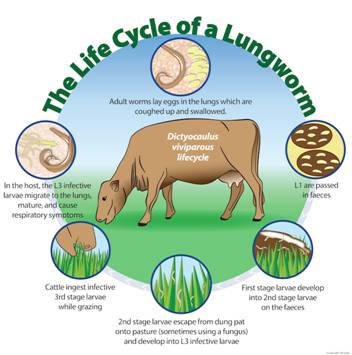 types of pneumonia. Signs to keep an eye out for are; weight loss, a cough, increased respiratory rate and effort, nasal discharge, salivation and in some cases worms coming out of the nose. Risk factors for infection are; wet summers(!), high stocking densities and poor prior immunity/exposure to the parasite. Vaccination can be used on farms where lungworm has been previously diagnosed to prevent clinical disease - given orally to calves aged eight weeks or more. Two doses are given at an interval of four weeks allowing a high level of immunity to develop. Vaccinated calves should be protected from challenge until two weeks after their second dose. Most wormers commonly kill lungworm, however overuse can lead to anthelmintic resistance.
Lastly.... Don't forget about vaccinating lambs for clostridial diseases (pulpy kidney etc.) – a common killer in growing lambs (and of course it is usually the well growing lambs) especially in late spring/summer months. Maternal antibodies only last for about 3-4 weeks, if the ewes were vaccinated pre lambing. First vaccines can be given from 3 weeks of age and the second vaccination 4-6 weeks later. If you are getting deaths, then don't forget we offer post mortems – both on farm and at the practice.
Previous Newsletters

April 2018
You've picked the one, bring him home but.... is he upto the job?
March 2018
Colostrum
Increasing neonatal survival in sheep
Update about BVD
Feb 2018
Causes of abortion in sheep
Vaccinating for some of the main causes of scour
Oct 2017

Bull Semen Testing
Pneumonia: the causes
Sept 2017
Improve your efficiency - Scan your cows!
Sheep Scab
August 2017
The BVD eradication scheme
April 2017
Neospora abortion in cattle.
March 2017
Pre-lambing nutrition:
Vaginal prolapse in ewes
Avian Influenza
January 2017
Bird Flu
Calf Scour
December 2016
Sudden deaths in lambs
Worms: Trichostrongylosis
CCN
Clostridial diseases and pasteurella pneumonia
Pneumonia in cattle
November 2016
Clostridial Considerations

September 2016
Abortion in sheep, its vaccination time!
Cattle Pneumonia
August 2016
Rumen bloat in cattle:
Frothy Bloat:
July 2016
Parasitic Gastroenteritis (Gut worms in sheep)
Coccidiosis
Joint ill: calves and lambs.
June 2016
BVD sheep abortion and microchip reminder

April 2016
Congenital abnormalities in calves and lambs
March 2016
Calf Scour
February 2016
Lambing Special
January 2016
Pneumonia: the causes:
December 2015
A bit on cattle lameness: The common foot problems

November 2015
Anthrax
Brucellosis
October 2015
Pneumonia, and cattle shed design.

September 2015
Lungworm in cattle
August 2015
Sheep Farmers: wormer resistance
Bull Management in suckler herds
July 2015
Sheep diseases
Jaasiekte; OPA (Ovine, pulmonary adenocarcinoma)
CLA; Caseous Lymphadenitis
June 2015
the changing regulations for disease testing and control

May 2015
Joint –ill a reminder
Disbudding, dehorning and castrating