Welcome to Strathbogie Vets

We provide a friendly and efficient Veterinary service for Huntly and the surrounding area. The practice has been established for over 50 years, catering for all the needs of pets, horses and farm animals.
Opening hours

Monday - Friday: 8:30 - 6:00.
Consultations: 9:00-10:00, 2:00-3:00 and 5:00-6:00
Saturday: 8:30 - 1:00.
Consultations: 9:00-10:00 and 12:00-1:00
Sunday: Closed.
Routine visits and consultations are by appointment only.Please phone the number above
In an emergency there is a vet on hand 24 hours a day, 365 days a year. Just call us on 01466792627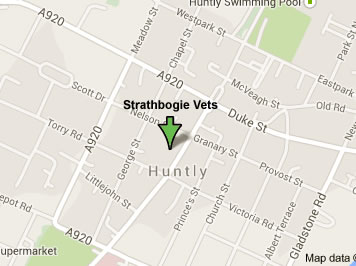 Pets
We provide a personal, flexible service; with no ailment too small. We do routine vaccinations, neutering, dental work and diagnostics including digital radiography and in-house blood testing. We hospitalise patients and carry out a range of surgeries, and treatments tailored to your pets' needs. In the case of an emergency there will always be a vet on hand. There are also a variety of pet supplies available for sale including toys, shampoos, collars and leads, beds, cages and a series of pet foods too.

Farm animals
Cattle and sheep as well as goats, pigs, and poultry are all seen; at a herd health level as well as ministry testing and other routine and emergency visits, with follow up help and advice where required. Visits include dehorning, castration, blood sampling, foot trimming, calving, lambing and investigations of pneumonia, scour, bloat etc. We also stock a range of wormers and vaccines at competitive prices. Just ask at the office.


Equine
We regularly run equine dentistry offers for teeth rasping. Horses and donkeys can receive both emergency and ongoing treatment for lameness, respiratory problems, injuries and colic etc, as well as routine vaccinations, microchipping and passports.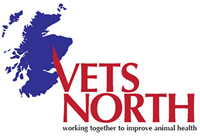 "Strathbogie Vets is a member of Vets North. A group of independant veterinary practices in the North of Scotland working together to improve animal health."